LN-NPN Airspeed AS.10 Oxford (c/n 4337)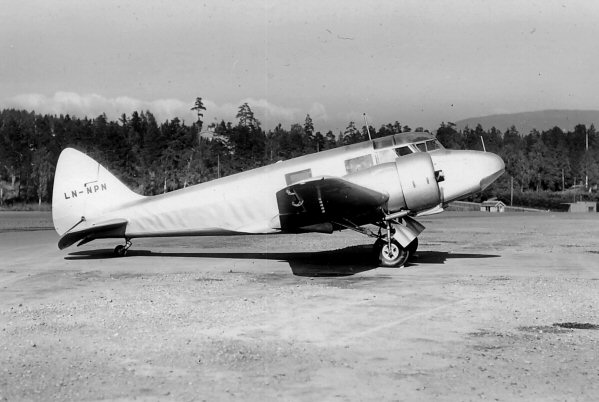 After WW II Wideroes operated a number of smaller types on their charter and scheduled
services. Six or so ex-RAF Airspeed Oxfords were acquired. This rare image came from
Wideroes in the early 1950s. Note glazed nose, indicating it may have been used for aerial
photography. This aircraft was ex-RAF PK285 which was originally civilianized as LN-LAE.
After service with Wideroes it apparently went to the Royal Norwegian Air Force with coding
V-AY. Ken Tilley advises other known Oxfords were LN-LAD (c/n 4326, ex PK262 to
RNAF as V-AX); LN-NPP (c/n unknown, became V-AU) and LN-NPR (c/n 2807 which
became V-AG). The last two wound up as fire practice aircraft. (Would have burned rather
easily, I should think!).