LB-DBW Honningstad C.5 Polar (c/n 1)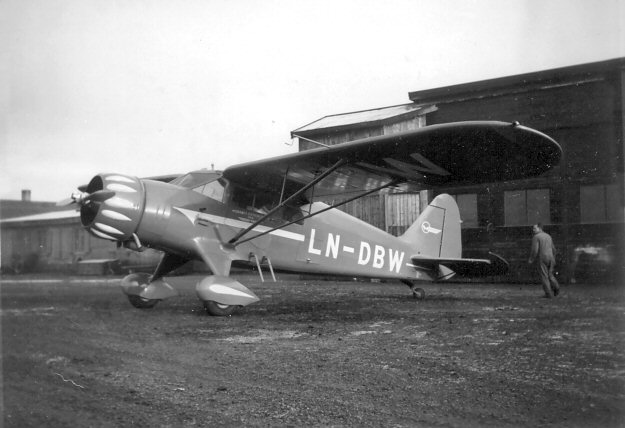 The C.5 Polar was designed by Birger Honningstad and built by Wideroes Flyveselskap A/S,
This concern, founded by Viggo Wideroe ( a true Norwegian aviation pioneer) in 1934, at
first operated a scheduled service from Oslo to Haugesund using a motley of single engine types
(Wacos, Stinsons, etc). The national airline D.N.L. objected to this and Wideroe transferred
his operations to the far north of Norway where he operated a badly needed mail service to
Kirkenes. By the time his contract was up, the Germans had invaded Norway and somehow
the competition managed to get him locked up, courtesy of the Gestapo. But you can't keep
a good man down, and in 1950 he took over Polarfly, a small company based in Narvik, and
recommenced services in northern Norway. Today the airline flies as far afield as Bergen to
Aberdeen, Manchester, and Copenhagen as well as extensive services in Norway. Anyway,
back to the C.5. As indicated, before WW II the company had operated a couple of Stinson
Reliants and obviously liked them so much that they issued a contract for the design of a similar
machine to be built locally. So far as I know, only one example of Honningstad's Reliant look-
alike (LN-DBW) was manufactured in the Wideroes workshops (in the mid 1940s). It is
currently on display in the Norwegian Aviation Museum (Museumssentert I Salhus) in Bodoe,
Norway.