I-ENEA (1) Fiat G.18/V (c/n 60434)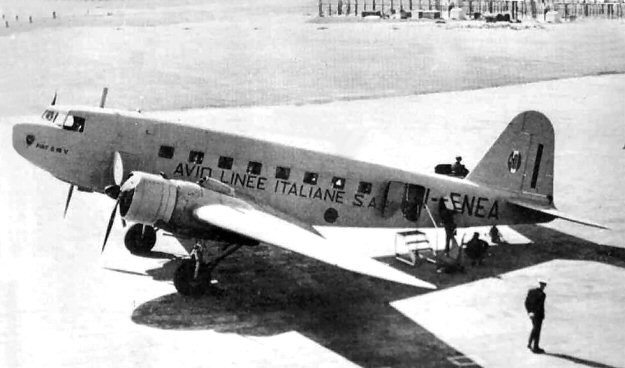 In the same category as the DC-2, and looking very much like one, was the Fiat G.18 which first
flew in 1935. Clearly designer Guiseppe Gabrielli had been influenced by the Douglas design.
Avio Linee Italiane was founded in 1926 with services from Milan to Munich. It was the only
airline not to be folded into Ali Littoria when that national carrier was formed. Services were
suspended, of course, during WW II, although in 1947 it was resurrected and began with domestic
services within Italy. In 1949 it absorbed SISA - Società Italiana Servizi Aerei, Transadriatica (both
post-war airlines using names of predecessors of Ala Littoria) and Airone and adopted the name
ALI-Flotte Ruinite. A fairly extensive network of European and domestic routes was developed.
In fact, it probably over-expanded since, by 1952 it was bankrupt and ceased all operations.
The image above, from the Kenneth Tilley collection, illustrates a G.18/V which had more powerful
engines. Only 8 G.18s in total were built.