I-DALU Douglas DC-4 (c/n 10381)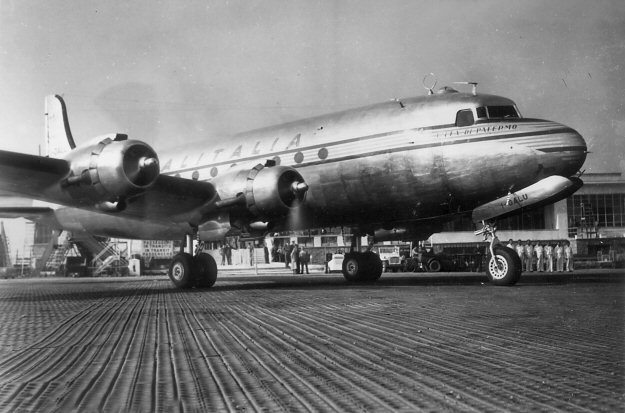 Fortunately this DC-4 is carrying the rego on the nose wheel door, although I could probably have
identified it by its

"Citta de Palermo"

name. This C-54A-15-DC (42-72276) was the 27th
Douglas post war conversion to DC-4 standard, and was sold to Pan American in 1947 becoming
N88926

"Clipper Twilight"

. Alitalia acquired it in 1950. It had a really checkered career after
that and I'll attempt to reconstruct it in tabular form.



Date

Registration

Owner

Notes



1954 N1435V California Eastern Air Lines US "non-sked"
1955 " Viking Airlines "
1956 " Twentieth Century Airlines "
1957 " Central Air Transport The Chinese one?
1957 " Transocean Air Lines Leaseed from CAT for 3 months
1957 " Central Air Transport Back off lease
1960 F-BJBX UAT Purchased
1960 " Air Afrique Leased from UAT
1962 TU-TBL " Registered in Tunisia
1963 F-BJBX UAT Back on the French register
1963 TU-TCC Air Afrique Couldn't make up their minds
1964 F-BJBX UAT Off lease again
1965 TU-TXC Air Afrique Leased for the third time - had to be some
accounting shenanigans here
1965 F-BJBX UAT WFU by UAT then sold to RAI
1968 " RAI Operated until 1971 then WFU and
Broken up at Faaa, Papeete.