I-DALO Savioa-Marchetti SM.95C (c/n unknown).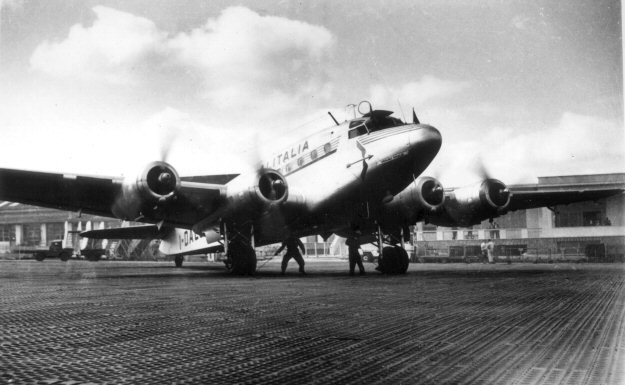 Alitalia were in the habit of sending me three-quarter (usually cropped) head-on shots of their aircraft.
By enlarging the nose portion of the original print (see below) the name

"Ugolino Vivaldi"

(a 13th
century Genovese explorer) was clearly visible. This made the aircraft I-DALO. This was the last
SM.95 to be received by Alitalia. It came to grief on 17 January 1951, and the following is an extract
from the accident report:
I-DALO departed Paris at 10:16 for a flight to Rome. At 14:36 the crew reported its position
as over the Civitavecchia beacon at 6500 feet. A few minutes later, the aircraft was then seen
descending in flames rapidly. The aircraft banked to the left heavily and crashed. 14 of the 17
souls on board were killed. Coincidentally, the same aircraft on the same route with the same pilot
on board had experienced a similar incident on 17 May 1949 near Lyon and had made a successful
emergency landing at Lyon Airport with two meters of its right wing tip section missing. The prob-
able cause of the 1951 accident was given as a lightning strike on the wing which ignited a mixture
of air and gasoline fumes in one of the wing panels.