VH-IMM Convair 440-11 (c/n 412)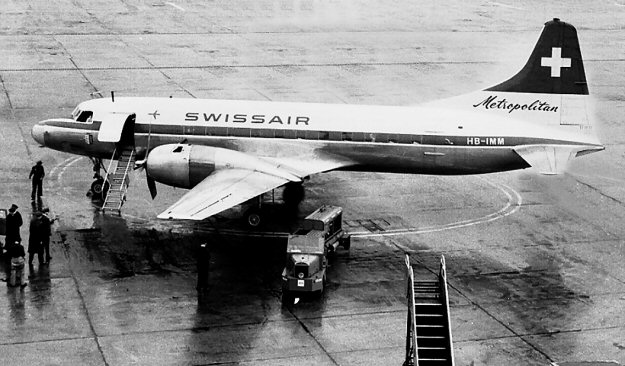 Here's HB-IMM at London Airport, on a miserable (typical?) day at London's Heathrow in 1957.
Photo by Rodney Brown. In 1968 -IMM was sold/seconded to charter subsidiary SATA and
converted to a Convair 640 by the installation of a pair of Rolls-Royce Dart R.Da 10/1 engines.
Steve Williams took the nice shot of it in that configuration (below) at Speke Airport, Liverpool
(or John Lennon Airport, as it had by then been renamed) in June 1970. HB-IMM was written
off at Tromso, Norway on 17 July 1973 when it landed heavily, bounced, and landed back nose-
down. The gear collapsed partly, and the aircraft came to rest 15m short of the runway end.
There were no fatalities to the 60 souls on board. SATA itself ceased to operate after 1978.