HB-IMB Convair 440-11 Metropolitan (c/n 327)
HB-IMC Convair 440-11 Metropolitan (c/n 332)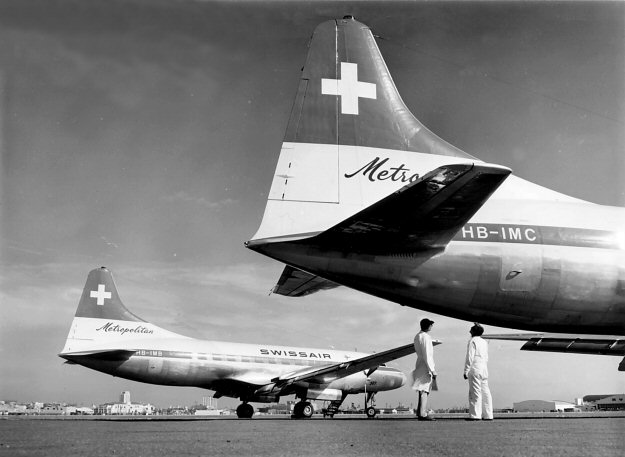 I am not sure of the provenance of this photograph. I suspect it was taken at San Diego prior to
the delivery of Swissair's first two Convair Metropolitans. Clearly HB-IMC has a slight problem
as there are two sizable dents in the rear fuselage. Did someone run something into them? The two
mechanics appear to be pondering on how to fix the situation! In the mid 1950s Swissair elected
to standardize on the Metropolitan for its short to medium range routes. The Swiss national carrier
was another one of the few airlines which preferred to wait for pure jets (in the form of the Sud Est
Caravelle) rather than purchase turbo props, such as the Viscount or Electra. Hence the Convairs
were operated for ten years. HB-IMB in the background went to the West German Air Force in
1967 as CA+034 while HB-IMC was sold to Martinair in Holland as PH-MAL the previous year.