HA-JUE Junkers Ju-52/3m (c/n J6585)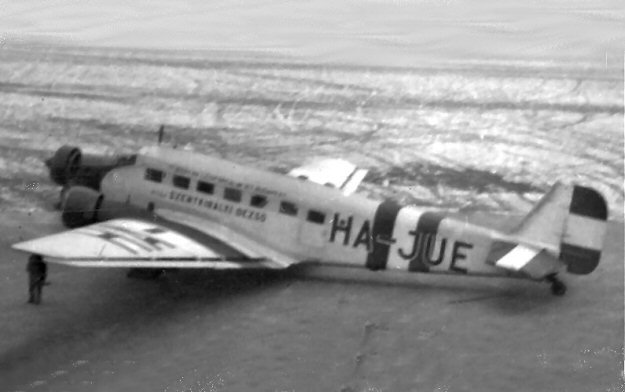 HA-JUE was delivered to Malert in 1939, and, as such, was one of the last of its breed that the
airline received. The above image is from the Gábor Toth collection, and shows the aircraft in
early WW II identification livery. It was impressed into service with the Hungarian Air Force in
1942 becoming U-864. It crashed (was shot down?) during an air attack in December 1944.
The aircraft below may, or may not be HA-JUE. Gabor advises that this aircraft made an emer-
gency landing after being attacked by a Slovak Avia B-534. It appears that the offending fighter
shot out the Junkers' oil cooler resulting in oil spilling up and covering his own windscreen to such
an extent that he had to call off the engagement and limp for home!