HA-JUC Junkers Ju-52/3m4ge (c/n J5600)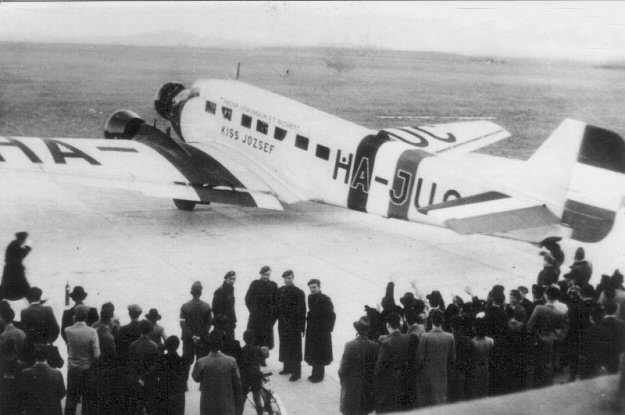 I am indebted to Gábor Toth for the selection of Hungarian pre- and immediate post-war photos
appearing on this site. Magyar Legiforgalmi (Malert) (known in the west at Hungarian Air Trans-
port Co.) was formed on 19 November 1922 and was the official government sponsored airline
in Hungary. It began with Fokker F.3 aircraft on a route from Budapest to Vienna in 1923.
HA-JUC was originally delivered to Malert in 1936 as HA-DUR, named 'Kiss Jozsef', and was
the Presidential VIP aircraft. It was re-registered HA-JUC in 1938 and converted to regular
passenger configuration. By that time the airline was providing service to Munich, Prague,
Warsaw and Bucharest. Soon after delivery of this machine, war broke out in Europe and in
the initial stages of this conflict, at least, most nations began identifying their civil aircraft in bold
letters or national insignia/colors. ABA, for instance had a very large 'Sweden' painted over
the cabin windows. Although Hungary, under pressure from Germany, joined the Axis in 1940,
its civil aircraft were still identified by large bands of red white and green in 1940/41. This
would seem to date the above photograph to circa 1940, or possibly just before HA-JUC was
impressed into the Hungarian Air Force 102/1 Transport Squadron in June 1941 as S-101.
It was re-serialed U-863 in April 1942 and was shot down by ground fire in October 1944.
I have no way of knowing which of the six or seven Ju 52s operated by Malert the photo below
depicts. I will append it here since it may be HA-JUC and taken when the aircraft was the
Presidential VIP aircraft, but that is pure conjecture.