H-NACC Fokker F.VII (c/n 4759)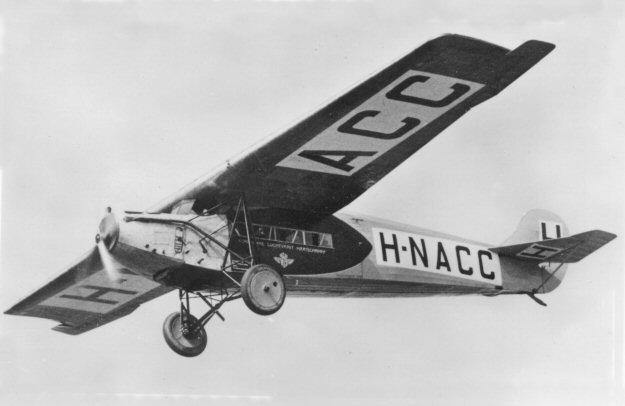 Many photographs have been published of this, the first Fokker F.VII, but this is a particularly nice
one received from KLM in the 1940s. The F.VII is more often recognized by the three motor
variety. As stated elsewhere in my narratives, the fact that Fokker basically modified the same
airframe to accept two more engines was a sufficient enough reason, in my mind, to give it a
completely different type number. This didn't happen, and the three motor F/VIIs were merely
just that: F.VII/3as or -bs. Anyway, back to the single engined F.VII. Only five of these were
built and were all treated more or less as prototypes for the beefed up and improved model F.VIIa
Aviation historian Geert Verkade in Amsterdam advises that H-NACC was the aircraft which, in
1924, completed the first trial flight to the Dutch East Indies. During the attempt the engine required
replacement somewhere along the way (in Bulgaria?) and the new one was paid for by the magazine
'Het Leven" (= "Life") by means of a public collection. H-NACC was eventually written off in an
accident at Wolverthem in Belgium in July of 1926.