G-ATEL Aviation Traders ATL.41 Accountant (c/n ATL.90)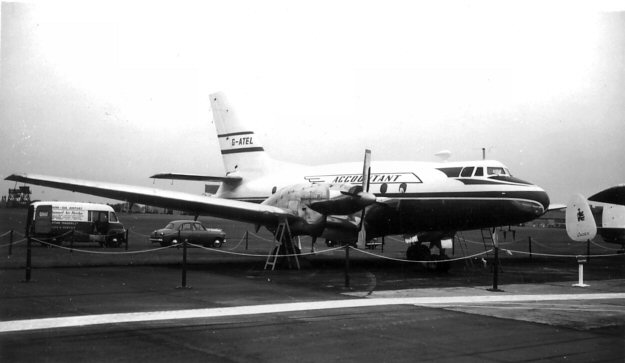 This aircraft was registered out of sequence in August of 1957 to reflect its '

A

viation

T

raders &
(

E

ngineering)

L

td" designers. Specialized registrations were not issued at the time so the fact
that this registration was allotted some ten years ahead of its time is remarkable. The Accountant
was one of several aircraft produced in the 1950s as potential "DC-3" replacements, and was to
have been powered by reliable Rolls Royce Dart 514 turboprops. Although a promising design,
Aviation Traders were unable to finance the high costs associated with certifying such a machine for
airline use and the Avro 748, backed by a much larger concern, captured the market. Only one
prototype (of three laid down) was completed and Jennifer Gradidge took the above shot of the
only one at the SBAC Show at Farnborough in 1957. Aviation Traders went on to make a name
for themselves by converting DC-4s into Carvair freighter versions. G-ATEL was broken up in
February, 1960.