G-ARVC Vickers VC.10-1101 (c/n 806)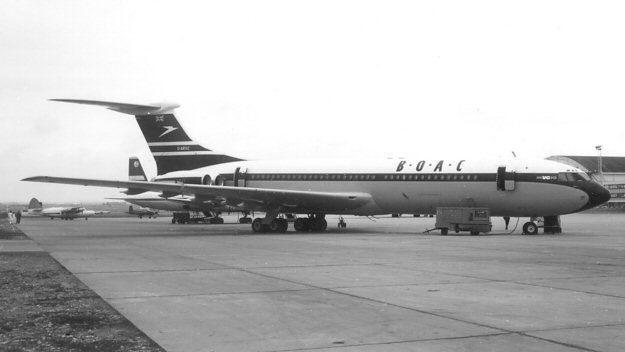 The Vickers VC10 was developed in response to a BOAC requirement for a large airliner
capable of operating from "hot and high" airfields (particularly for the African continent). It
was powered by 4 Rolls Royce Conway turbofans generating some 21,900 lbs of thrust each,
mounted on the aft fuselage, Caravelle-style. The aircraft were used initially on services to east
and west Africa, although latterly on most world-wide routes. There was also a Super VC.10
version incorporating improved economics. I had the unfortunate experience to fly them occasion-
ally on business trips between the US and Australia (if I couldn't get on Pan Am at short notice).
I say unfortunately, because, in order to achieve said economics, BOAC had pitched the economy
class seats for midgets and anyone over 6 ft tall suffered mightily on the long Pacific haul. Trust me,
it was murder! Jennifer Gradidge photographed G-ARVC at London Airport in 1964 whilst the
aircraft was on turnaround from Lagos, Nigeria.