G-ARPB Hawker Siddeley Trident HS.121 Trident 1C (c/n 2102)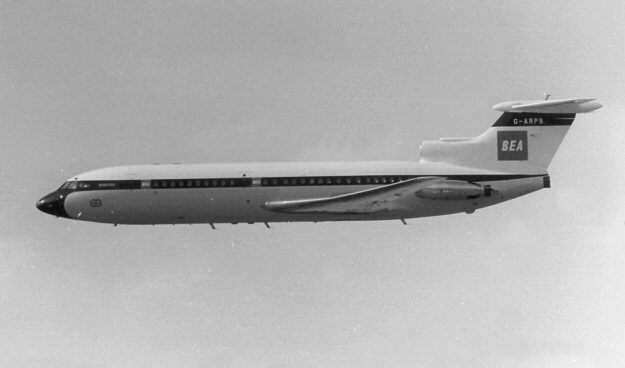 Originally designed as the de Havilland D.H.121, the Trident was built after de Havilland had been
absorbed into the Hawker Siddeley Group. It formed the backbone of BEA's (and later BA's)
fleet in the 1960s and 1970s. The airline had a pot-load of these 727 look-alikes*......well about
75, to be precise. The above shot was taken by Jennifer Gradidge during a low fly past at the 1964
Farnborough Air Show. In November 1966, G-ARPB, fitted with a Smiths' Autoland system, made
three test landings at Heathrow in virtually zero visibility. All other aircraft had been grounded. Having
said that, I flew on a similarly equipped Mark 2 on a business trip from Heathrow to Lyon-Bron in
1970. Bron was closed due to fog (as it often was) and so we had to divert to Grenoble! I guess that,
without comparable ground equipment, the Autoland system was useless.
* Although similar, both the Boeing 727 and Trident were developed at about the same time, so it is
unlikely that one influenced the other, but more likely that the "three in the tail" was the logical way to go.