G-APEB Vickers Vanguard 951 (c/n 705)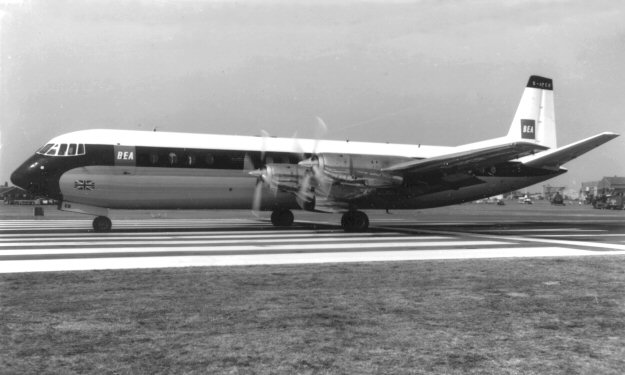 As a follow on to the Viscount, BEA ordered a fleet of Vickers Vanguards in 1958. They were
named after famous Royal Naval vessels. Having said that, G-APEB appeared to carry the name


"Belle Rophon"

although all the naval vessels had it as one word! This Vanguard is wearing the
so-called "Red Square" markings, which, in my opinion, was one of the most horrible liveries ever
devised for an airline. With a black cheat line (including the tail top bearing a minscule registration -
you'll have to believe me when I say this is 'PEB), and red wings and "BEA" squares, I just wonder
what the graphic artist was thinking of? Only 43 Vanguards were built. BEA had 20 of them. The
only other carrier to order them new was Trans Canada. Most of the Vanguards passed to British
Airways in 1972 when that carrier was formed by the merger of BOAC and BEA. Most of them
were withdrawn from service shortly after that. Jennifer Gradidge caught this one about to depart
Heathrow in the summer of 1960.