G-ANBB Bristol 175 Britannia 102 (c/n 12903)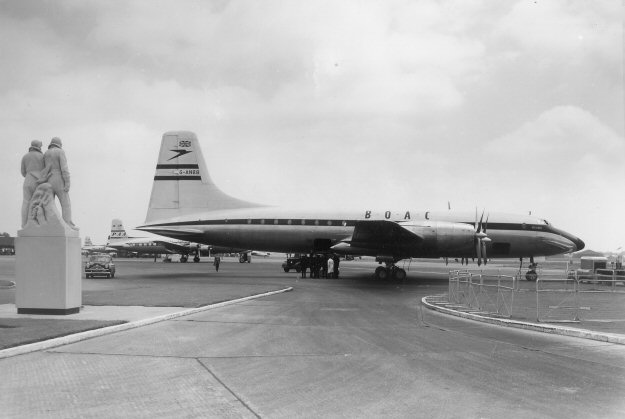 Here's an historic shot. It shows the second production Britannia, G-ANBB standing near the statue
of Alcock and Brown (first to fly across the Atlantic) at London Airport in 1957. The statue is still
at Heathrow, but has been resited. The background of this image is interesting: Note two Pan Am
DC-6Bs (nearest the camera is N6521C) and the 1954 (I think) Vauxhall Velox on the tarmac.
Like its sister ship, G-ANBA, G-ANBB went to Britannia Airways in 1964. However, on 1st
September 1966, G-ANBB was on a charter flight from Luton to Ljubljana in Slovenia with 110
passengers up when it crashed into trees on approach to Ljubljana Airport.. 92 passengers and
six of the crew were killed. The probable cause given after the investigation indicated that the
captain had failed to set his altimeter to the QFE as passed by the controller. He was, apparently,
flying with the QNH setting. The difference between the two at Ljublana Airport is evidently about
1000 ft. Failure on the part of the co-pilot to cross check the two altimeters was also cited in the
cause.