G-ALZP Airspeed AS.57 Ambassador 2 (c/n 5213)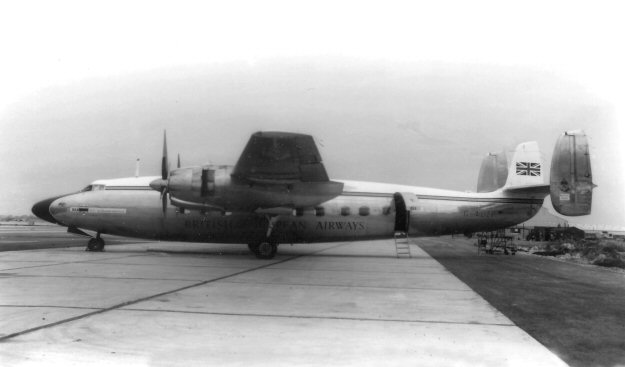 For some strange reason I never did get any really good photographs of Ambassadors. Jennifer
Gradidge's shot here, taken or a dull day in the early 1950s, leaves much to be desired. The BEA
type name for these aircraft was "The Elizabethan". All the Ambassadors were given names of
persons famous in the first Elizabethan era, G-ALZP being

"Sir Richard Grenville"

. This is a
personage of whom I have some knowledge inasmuch as he was the sea captain that brought the
first settlers to North Carolina where, of course, your scribe now lives. As a side note - Grenville's
treatment of the native Indians already there was harsh enough to question whether an aircraft should
have been named after him at all - he burned and sacked one village (killed 'em all) as revenge for
the theft of a small silver chalice! Anyway, back to G-ALZP. BEA sold it to the Royal Jordanian
Air Force in 1960 where it was to have become # 109. Evidently this was not taken up and eight
months later it was resold (at a profit?) to the King of Morocco as CN-MAK. It was repatriated
back to the UK in 1963 for the Decca Navigator Company. In 1971 it was purchased by a New
Zealand charter outfit named South Seas Airways, ostensibly to have been ZK-DFC. In the event
the company was unable to secure an operating certificate and the Ambassador never did make the
long trek. Instead it was stored for a while and then broken up at West Malling, Kent in 1971.