G-ALSA Boeing 377 Stratoliner (c/n 15943)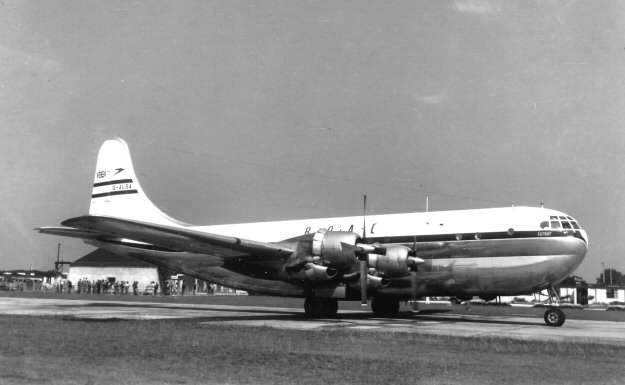 In order to compete with Pan American, BOAC purchased a fleet of ten Stratocruisers in 1949
primarily for use on their North American services. These were augmented with four ex-United
machines when that carrier found them uneconomical to operate on their Hawaiian services.
G-ALSA, seen here in this Jennifer Gradidge shot taxiing along the northern perimeter of a very
undeveloped London Airport in 1950, was originally built to a Svensk Interkontinental Lufftrafik
(SILA - SAS' holding company) order, but not taken up. BOAC, who received it in October
of 1949 named it

"RMA Cathay"

. On Christmas Day, 1954, the Stratocruiser was high on the
approach to Prestwick, Scotland, on the first leg of a flight from London to New York. In an
attemp to overcome this situation, the captain increased the rate of descent and flared too late.
As a result the aircraft impacted the ground short of the runway threshold. Pilot error was cited
as the cause of the accident in which 28 of the 36 souls on board perished.