G-AGZB Douglas DC-3 (c/n 12180)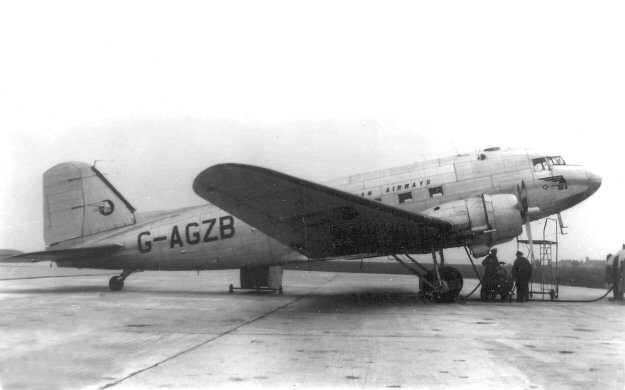 A somewhat washed out photograph of a BEA DC-3 (probably taken by F/Lt D.A.S. Mckay
at Northolt circa 1947) from the Jennifer Gradidge collection. A former RAF Dakota III (FZ624),
it was civilianized in 1946 for Railway Air Services. It passed to BEA in 1947, and was converted
to "Pionair" standard by Scottish Aviation of Prestwick in the 1950s. It then passed to cut rate
operator Channel Airways. On 6 May 1962 the aircraft was flying from Jersey to Portsmouth.
Upon arriving over the south coast of England dense fog was encountered (even though it was
sunny and clear at the point of departure). The captain had descended to 1000 feet while
approaching Portsmouth in low clouds and drizzle. G-AGZB impacted cloud shrouded St. Boniface
Down, crashed and burst into flames. Twelve of the 17 passenger and crew aboard perished.
Pilot error was given as the cause of the accident. A plaque has been erected at the crash site.