G-AGND Douglas DC-3 (c/n 26725)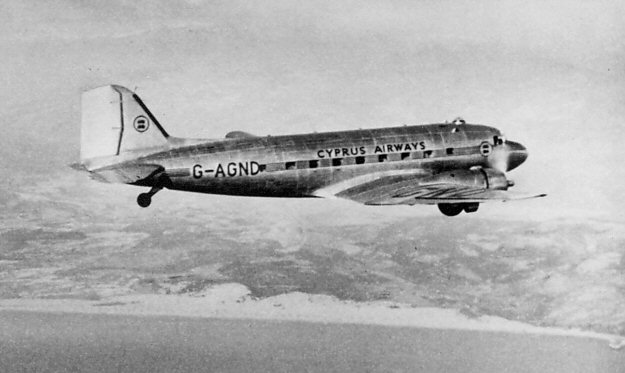 The above image came from a rotogravure post card printed in Nicosia in the 1940s. Considering
that, it's not too bad. Michael Davie's contribution (below) is also from a post card and shows -GND
at Beirut Airport, in the early 1950s. . The rego has been relocated to the tail and is scarcely visible
in this reproduction. Cyprus Airways was founded in September 1947 as a joint venture between the
Cypriot Government, British European Airways and private interests. Operations commenced on
18 April 1948 with Douglas DC-3s. G-AGND was a former RAF Dakota IV (KK142) which
was civilianized for BOAC in 1945. Cyprus Airways acquired it in 1948. It was sold in the 1950s
to Bahamas Airways as VP-BBT when Cyprus began using BEA Vickers Viscounts on the Athens-
Nicosia route. BEA took over all actual operations of the airline in 1958. The current airline of
the same name is now owned by the Government of Cyprus.