G-AFGN Lockheed 14F-62 (c/n 1467)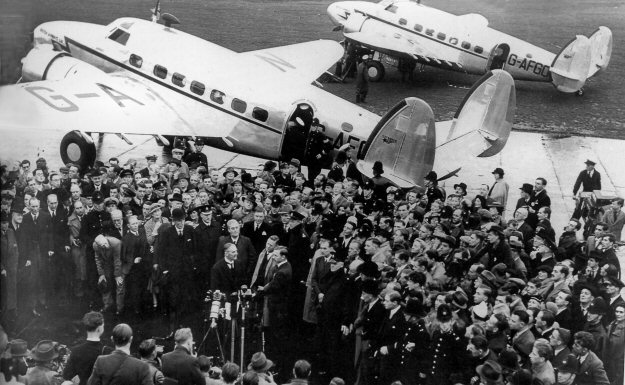 Here's Neville Chamberlain delivering his "Peace in our Time" speech at Croydon on 29 September
1938, having just returned from his meeting with Hitler in Munich aboard G-AFGN. These Lockheed
14s, (with G-AFGO - c/n 1468 - in the background) were two of six operated by British Airways Ltd
on their longer stage European flights (Berlin, Warsaw, Zurich, etc). This photograph came from
"Picture Post" magazine, an early UK photojournalism weekly publication which demised in 1957.
G-AFGN was written off in a crash on 11 August 1939 near Saint Sauveur, Luxeuil, France (just
before the war that Chamberlain's "piece of paper" was supposed to allay). The aircraft was on lease
to Imperial Airways at the time and suffered an engine fire en route from Switzerland to London. The
aircraft was completely destroyed in the resultant crash landing although fortunately there was no loss
of life.