G-ADUT Short S.23 Empire Class (c/n S.811)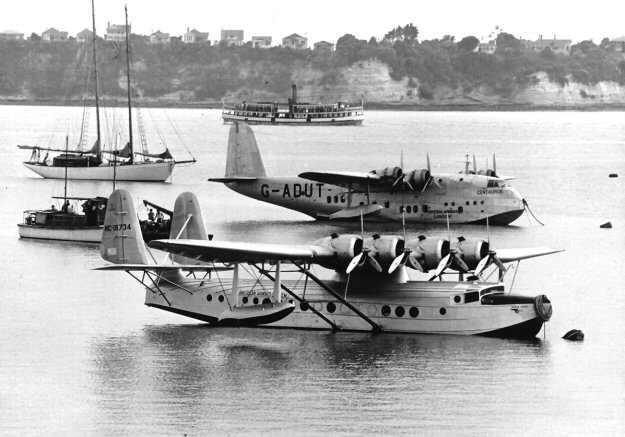 This historic photograph, from the collection of Paul Tolenaars in New Zealand was taken at
Auckland in December 1937 on the occasion of proving flights by Imperial Airways, who were
looking to develop a trans-Tasman route, and Pan American who were seeking trans-Pacific
rights. The Sikorsky S-42B NC16734 (c/n 4207) looks positively dated (which it was) along-
side

'Centaurus'

, the sleek Empire Class 'boat. This was the second visit to New Zealand by
Pan Am's most senior pilot, Capt Edwin C. Musick in

'Samoan Clipper'

, and was to be his
last. Sadly, Musick and his crew of 5 were killed at Pago Pago, Samoa on 11 January 1938
on the return trip to San Francisco when the S-42B exploded in mid-air as the crew dumped
fuel in preparation for an emergency landing. As indicated above, G-ADUT had left South-
ampton on 3 December 1937 on its proving flight to develop the air route from England to
Australia and New Zealand.

The trans-Tasman flight was only a small segment of that larger
survey. It arrived back in Southampton on 23 February 1938. In February 1942 following
Japan's entry into WWII a number of BOAC flying boats were in operation on the Australian
end of the route to the UK and could not be flown back to the UK. 'Centaurus'

was one of
these. BOAC then placed these aircraft at the disposal of Qantas and the Australian authorities.
G-ADUT

was impressed by the RAAF as A18-10. She was sunk at her moorings at Broome,
Western Australia during a Japanese air raid on 3 March 1942. Robert Blaikie in Queens-
land provides two further images below. The upper depicts the aircraft at anchor at Wellington,
New Zealand on New Year's Day 1938 prior to its return to Auckland, whilst the lower shows
a plaque to commemorate the landing of 'Centaurus' on the Brisbane River on 21 December
1937. This latter was unveiled at the Queensland Maritime Museum by the Lord Mayor of
Brisbane on 20 December 1987. Robert indicates that a further plaque also exists on the banks
of Hamilton Reach which commemorates the operation of G-ADUT

with the USAAF and was
unveiled by Brigadier General William G. Hipps, (USAAF retired) and F/Lt Green of the RAAF
on 15 August 1998. Clearly G-ADUT's connection with the city of Brisbane is not easily forgotten!