G-ADSR Armstrong Whitworth AW27 Ensign (c/n AW.1157)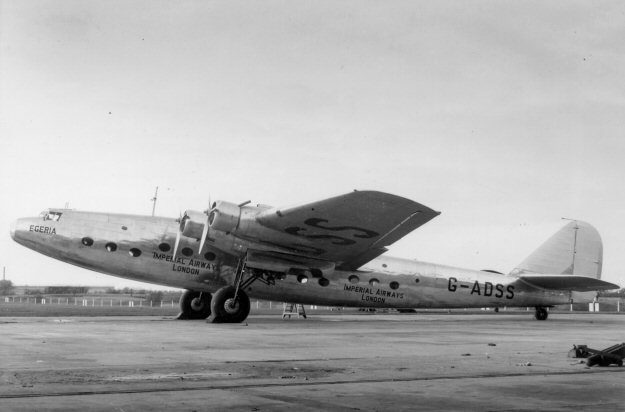 Here's a nice Sir W.G. Armstrong Ltd photograph of the second AW.27, named

"Egeria"

. In 1934
Imperial Airways issued a specification for a high density airliner for their London-Paris run. Armstrong
Whitworth were busy with Whitley bomber production at the time and hence the Ensigns were built at
the Air Service Training workshops at Hamble. However, constant detail changes requested by Imperial
Airways (a trend that was repeated after the war by BOAC with regard to several aircraft) resulted in the
Ensign being two years late in entering service. In fact, the first flight of G-ADSR, the prototype, did not
take place until 24 January 1938. In all 14 Ensigns were eventually to be flown by the airline. When
BOAC was formed in September 1939 most of the existing machines passed to the new corporation,
several, including G-ADSS, not being retired until 1947.. Seen below is a covey of AW27s at Croydon
in 1939. They are, from left to right:
G-ADSR

Ensign

; G-ADSU

Euterpe

; G-ADSV Explorer
Note Handley Page HP.42 G-AAXC

Heracles

on extreme right.