EI-AFV Vickers 707 Viscount (c/n 30)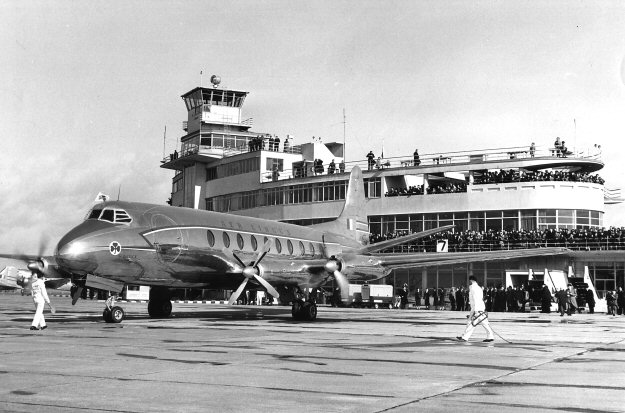 In the days of yore the delivery of a new type of aircraft to the national airline was a media and indeed,
a public social event. This is evidenced by the crowd of well wishers seen here at Dublin Airport early
in 1954 when EI-AFV

"St. Patrick"

the pride of Aer Lingus' fleet, arrived from the Vickers plant.
Nowadays a new Boeing or Airbus type can be introduced into an airline's fleet without the public even
being aware of (or in fact, caring about) such an event. The above shot is via Aer Lingus whilst the
lower one is a manufacturer's image of the same aircraft. Shortly after the Viscounts were delivered
the airline adopted a new livery, similar to the above, except that the upper surfaces were in green, rather
than the white top industry standard of the day. Clearly keeping the sun off the roofs of airliners in Ireland
was not a real problem! EI-AFV returned to the UK in 1960 and was sold to Tradair as G-APZB.