EI-ABI D.H.84 Dragon (c/n 6076)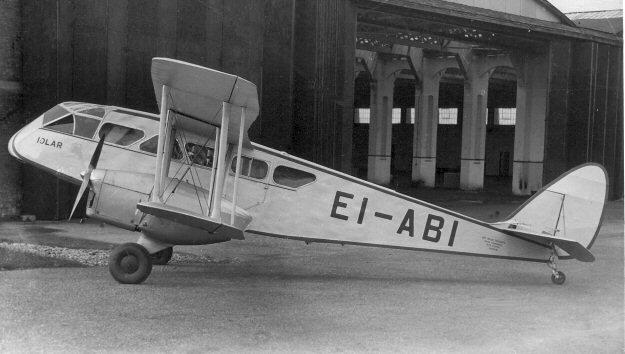 Aer Lingus (Gaelic for Air Line) was formed on 22 May 1936. EI-ABI was its first (and, at the time,
only) aircraft. It was Blackpool and West Coast Air's former G-ACPY, and was named

"Iolar"


(Eagle) in Aer Lingus service.. The first route was between Baldonnel Airport, Dublin and Bristol.
EI-ABI was returned to the UK register in 1938 as G-ACPY. It departed St. Mary's in the Scilly
Isles for Land's End on 3 June 1941. Wearing pseudo camouflage and civilian registration underlined
in red white and blue, it was attacked and destroyed by a He 111H4 which shot it down with its nose
gun. Hardly an even match. All five passengers and the pilot were killed. The Dragon EI-AFK has
recently been restored as EI-ABI, and is flying as such. The above shot is of the original and was taken
at Baldonnel in 1936.