EC-ACE Douglas DC-4-1009 (c/n 42952)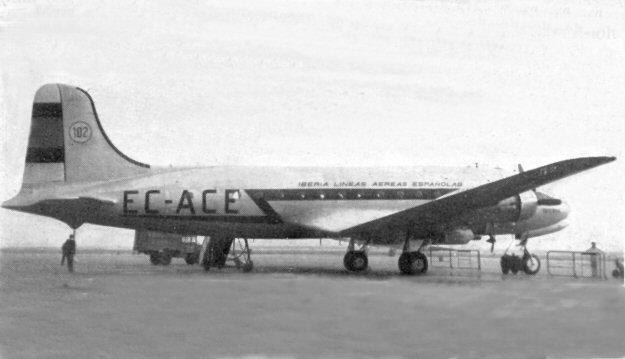 When I used to write to the airlines in the 1940s and 1950s requesting photographs, histories, maps
etc. the airlines of the Iberian peninsular, i.e. TAP and Iberia would never reply. Maybe they didn't
have translators, or someone to read my requests! Whatever. The only images I have, therefore,
have been gleaned from various other sources. When Iberia commenced services from Madrid to
London's Northolt Airport in 1947 it was with DC-4 aircraft. The most commonly used unit was
EC-ACE seen in this grainy image. Although the line only had (at that time) three DC-4's, they
managed to provided a service from Madrid to Buenos Aires, albeit only three times a month.
This aircraft wound up in Zaire as 9Q-COW and was reputedly still stored in Ndolo in the 1990s.