CH-192 Fokker F.VIIb-3m (c/n 5225)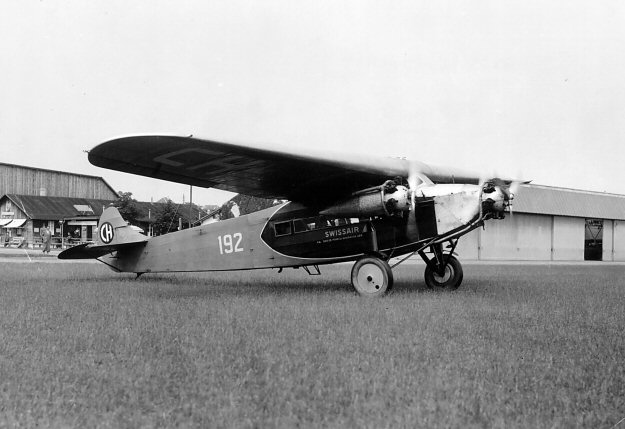 Swissair was formed on 26 March 1931 with the merger of Ad Astra Aero and Balair. Incredibly,
and no doubt as a sign of these tumultuous (airline) times, the once proud, (even haughty) punctual
and service-oriented Swiss national airline was forced into bankruptcy at the end of 2001. A follow-
on company has been started up to replace this national airline, but that is outside of the scope of my
presentation period. Anyway, back to CH-192. This Fokker was one of three originally delivered
to Ad Astra in early in 1929, and which passed to the asset register of the newly formed Swissair.
Almost any engine of sufficient power could easily be fitted to the Fokker F.VII and this one utilized
three 200 h.p. Armstrong Siddeley Mark IV engines. CH-192 was sold to the Ethiopian government
in 1934 as the Royal Imperial aircraft. It was burnt out on the ground in 1936 during the Italian invasion.
For more historic background on the Abysinnian aircraft of this period visit Michel Barriere's new and
well-researched site at: http://www.crezan.net/ (Be sure to click on the Union flag for English!).