CH-169 General Aviation (Clark) GA-43 (c/n 2202

)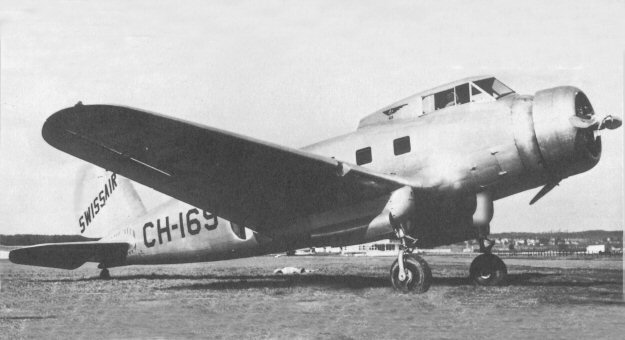 The three images on this page were acquired from Swissair in the 1940s. Clearly the under-port-
wing and forward fuselage titling treatment on the print immediately below had been greatly enhanced
by someone in the Swissair art department. Not only that, but the dihedral looks too pronounced on
the starboard wing. The drawing at the foot of the page came from a post-war historical brochure but
is, I believe, attributable to John W. Wood. Actually, two Clark GA-43s were acquired by Swissair
in 1934. The other was HB-ITU. They were used internally within Switzerland and also on the Zurich-
Frankfurt night mail service and on passenger runs between Zurich and Vienna. As with the Orions,
this GA-43 wound up with the Republican forces in the Spanish Civil War in 1936. The second GA-43,
HB-ITU, was unfortunately lost when it flew into a mountain in central Switzerland in 1936 .(See entry).