YV-C-EVB Douglas DC-4 (c/n 10408)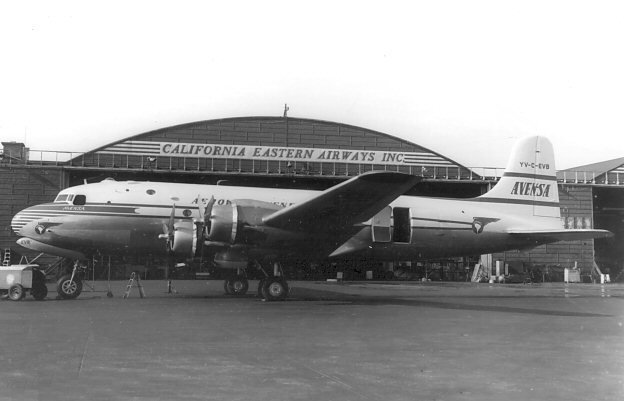 A large number of DC-4s, after their military days were done, were snapped up by the "non-sked"
airlines prevalent in the US in the 1945-1955 period (they were pretty much run out of business by
the FAA after that). Some were so large they became known as "large irregular carriers", and went
on to become rather more legitimate businesses. Cal Eastern was one of them. This DC-4 had
been acquired by California Eastern in 1950. It was leased to AVENSA in 1952 and is seen here
in a Douglas D. Olson shot (courtesy of the Jennifer Gradidge collection) at Oakland in that year,
just prior to going to Venezuela. It had a wide and varied career later in its life, finally winding up
as the

"Aerolandia"

snack bar near Seville, in Spain (still registered G-APID, I believe). It was
finally broken up in the 1970s.