XA-NAF Lockheed L1049G Super Constellation (c/n 4678)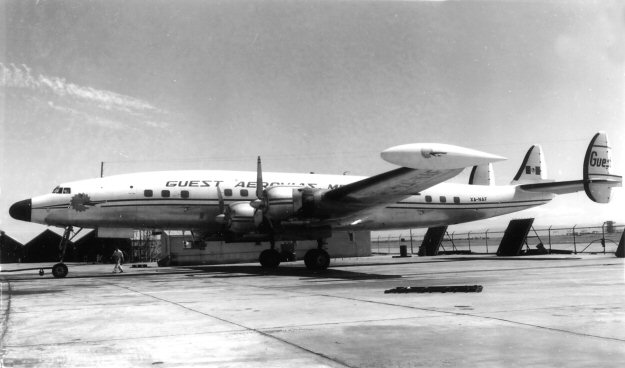 In 1959 Scandinavian Airlines System purchased a controlling interest in the stock of Aerovias
Guest, S.A. These were used on their trans-Atlantic and Caribbean services. This shot, from the
Jennifer Gradidge collection was taken at London Airport in 1960. Despite the cabin titling of
"Guest Aerovias Mexico" the registered title of the airline was still Aerovias Guest, S.A. This
aircraft had been built new for Thai Airways as HS-TCC in 1954. By 1962 SAS realized that
Guest was not a money making proposition and divested themselves of it. It was disbanded in
1962 and its routes were taken over by Aeronaves. After stints in Spain and the US c/n 4678
went to Panama as HP-467, and was written off in a take off crash at Panama City in 1968.