XA-LOS Curtiss C-46 (c/n 32693)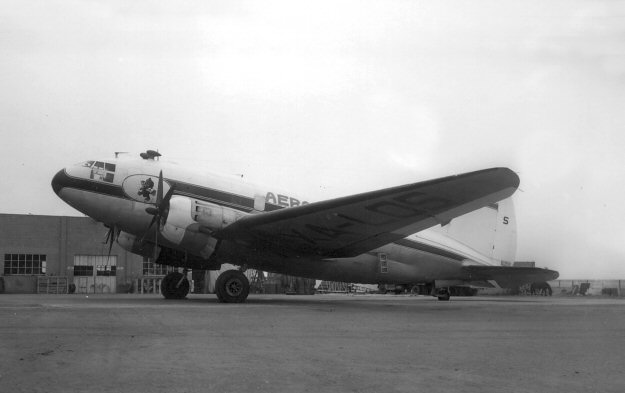 Aerocarga S.A. was a predominately freight carrier based in Ensenada, where this photograph
was taken on a dreary day in February 1964. (The airline did also have a passenger route to
Bahia Tortugas). Its basic operation, however, was the transportation of fresh fish from La Paz
in Baja California to Ensenda and Tijuana. From there it would be shipped over the border into
San Diego and L.A.
Interestingly, another Baja California based airline was Lineas Aereas del Pacifico. The only
image I have of one of their DC-3s appears below. Since it cannot be identified I will not assign
it a separate entry. Both aircraft had the 'cat carrying a package' logo, indicating one was a
subsidiary of the other. In 2014 I received an interesting message from George Murillo who
indicates that this logo was created and drawn by his father, Jorge Arturo Murillo who was a
pilot with both carriers at the time. George sent me the shot at the foot of the page showing
a jacket patch with this logo in full color.
XA-LOS, by the way was "lost" in a landing phase crash at Guadalajara on 22 Feb 1966.