XA-FUV Douglas DC-3 (c/n 3261)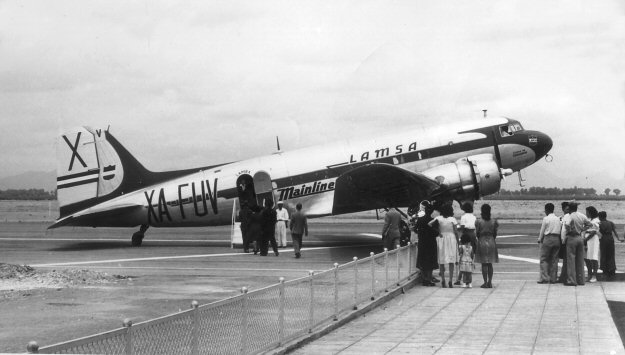 LAMSA was founded in 1935 as Lineas Aereas Mineras, S.A. In the early 1940s it was
acquired by United Air Lines (several US carriers had stakes in Mexican airlines in those days),
and renamed Lineas Aereas Mexicanas, S.A. As can be seen, the livery was standard United,
even down to the

"Mainliner"

logo. XA-FUV was the former NC25617 and carried the name


"Mainliner Youngstown"

whilst in UAL service. When it was transferred to LAMSA in 1946
it was renamed

"Cuidad de Chihuahua".

Interestingly, the schedule from Cuidad Juarez (as
close as LAMSA came to L.A. in those days) to Mexico City in 1947 was some 8 hours!
XA-FUV was re-registered XB-JBR in the 1960s and written off some time after that.