XA-FIT Douglas DC-4 (c/n 10507)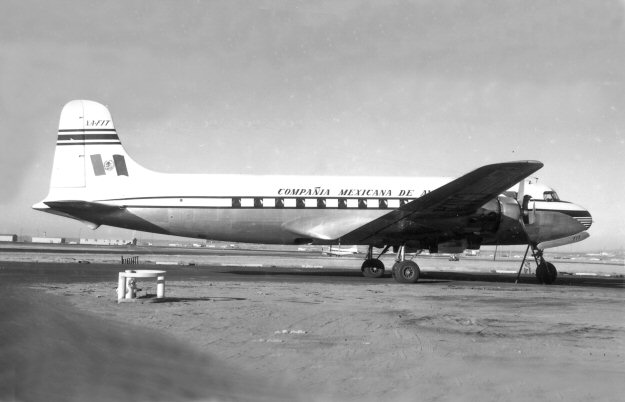 By 1958 Pan American's share of its interest in CMA (by now calling itself Mexicana) had
dwindled to approximately 10% and Mexican nationalistic leanings resulted in a gradual shift
away from Pan Am like liveries for its aircraft. XA-FIT falls into the interim period when the
design was changing, although the Pan Am stripes still appear on the nose. I took this shot at
LAX in 1960 when the DC-4 was operating as an equipment substitution flight in lieu of the
regularly scheduled DC-6. To the partly savvy traveler, however, the ploy was disguised by
painting square frames around the round windows. (They sure found out after take off that
this was not a pressurized cabin machine!). The aircraft was sold to AVIANCA in 1962 as
HK-728. Later it went to Aeronorte Colombia and crashed into a mountain near El Libano,
Colombia in July of 1974.