VP-TBE Douglas DC-3 (c/n 9885)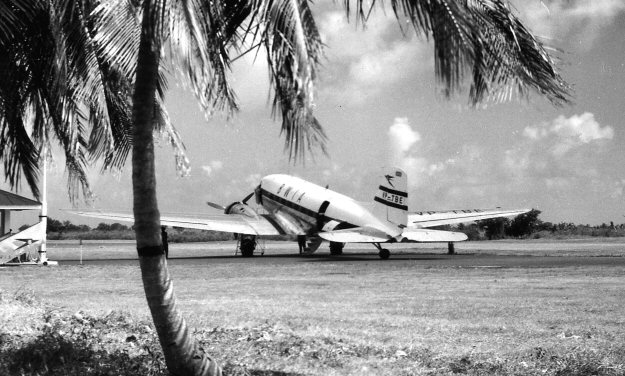 Had I shot this photograph I would have gone out of my way to take the palm tree

out

of it,
not make it the subject of the image. Clearly the photographer was trying to bring out the
exotic tropical atmosphere of the terminal at Piarco Airport, Port of Spain, as it was in the
early 1950s. This ex C-47A-40-DL (42-24023) was one of four DC-3s acquired in 1952.
Another (9Y-TCR) was leased from Leeward Island Air Transport later in the1960s.
VP-TBE spent all of its career in the West Indies, being civilianized in Miami as NC46858.
It then went to British Caribbean Airways in Jamaica in 1946 as VP-JAQ. In 1951 it was
acquired by Bahamas Airways as VP-BAQ, but was only there a short while before being
transferred by BOAC to BWIA. It then returned to the Bahamas as VP-BBU after its spell
with BWIA. It finally wound up in Honduras as HR-LAE and was seen derelict on Tegu-
cigalpa Airport in the 1970s. Presumably it rotted out there.