VP-BAC Grumman G-44A Widgeon (c/n 1448)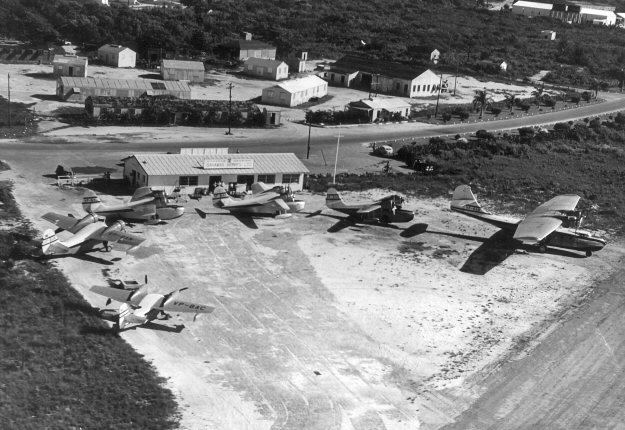 This fascinating shot was obtained from Bahamas Airways in 1952. It depicts the new air terminal
constructed at West End on Grand Bahama Island. This terminal was established primarily to pro-
vide service to the newly established Butlin's Holiday Camp. These early style "Club Meds" were
very popular in those days. This one clearly catered to the higher class of punter who could afford
to cross the Atlantic to the (then) British colony. A motley collection of seaplanes, clad in the then
pseudo-BOAC style livery of the day (white top, blue cheat line and tail registrations) are ranged
around the wooden shack terminal building. In order to get these regos into Google, I will link
each one to this page. They are, clockwise from the lower left:



Reg.

Type

c/n

Previous ID

Future ID

Fate



VP-BAC Grumman G-44A Widgeon 1448 NC86622 N20Z Crashed Sept 1963
VP-BAM Grumman JRF-4 Goose 1109 NC66102 N332D Current - in Florida
VP-BAL Grumman G-21A Goose 1084 NC28635 N86639 In Florida in 1976 (see below)
VP-BAH Grumman JRF-6B Goose 1162 NC1057M N5521A Antilles Air Boats in 1972
VP-BAR Grumman JRF-6B Goose 1126 VQ-FAH N68377 Unknown
VP-BAB Canadian Vickers PBV-1A 422 N95494 CF-HGE Unknown

Here's a shot of VP-BAL as N86639 at Opa Locka, Florida in June of 1976. Image courtesy the
Ellis M. Chernoff collection. Note retractable floats.