VP-BAA Consolidated 16 Commodore (c/n ?)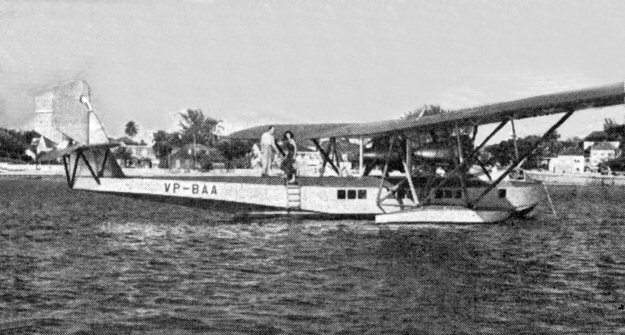 I make no apologies for this image. It came from a small photograph published in a 1952 edition
of "Convairiety", the house organ of the Consolidated Vultee Corporation, and this is the best I
can do.. Evidentlly this grand old lady of the air was still operating at that time. I do not know
which one of the 14 Commodores built that this one was. I suspect it was acquired in the mid to
late 1940s and probably flew with Bahamas Airways for a few years. The Bahamas (at least
while it was a British Colony) probably re-assigned the same registration more than any other
country that I know, and that's saying something when one considers VH- land! Anyway, there
were at least four or five re-issues of just about every sequence in the VP-BAA to VP-BAZ
range. This VP-BAA was the first, however, and was, in fact, the first aircraft to be registered
in the island colony. The next VP-BAA was a Grumman Goose, followed by a DC-3. In the
1970s the registration was worn by a Boeing 727. There may have been others before VP-B
became C6. I often wonder why ICAO began assigning number and letter combinations after
1945? I mean, there were lots of two lettered combinations left. There was no need to do that.
The rot started with Israel (4X-) which was fairly quickly followed by Ceylon (4R-). I don't
think it was even Sri Lanka at the time. And they're not even consistant. Most of the African
regos begin with "5", but not all of them, so it isn't a regionalized system. Just imagine, there's
one bloke, somewhere, (Montreal, I suppose) who actually assigns these codings.