TI-160 Douglas DC-3 (c/n 12062)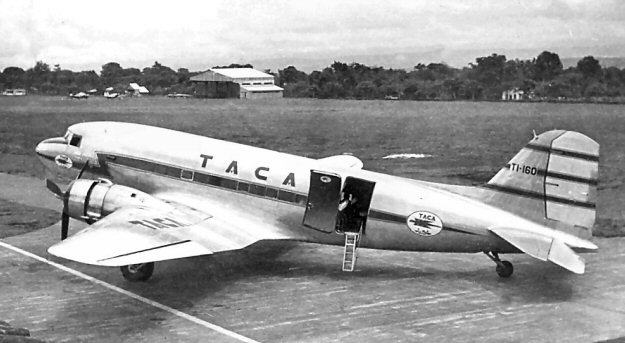 Transportes Aereos Centro-Americanos (TACA) was founded by Lowell Yerex, a New Zealander,
who had attended university in Valparaiso, Indiana. In 1931 he founded TACA de Honduras and
expanded his empire over the years into a complex corporate structure involving some six different
TACA lines in as many countries in Latin America. (He also founded [in 1939] British West Indies
Airlines and [in 1941] Aerovias Brasil). All this in direct competition to Juan Trippe's Pan American.
A brave man indeed to go head to head with Trippe in business manners, and come out as a winner.
. Seen above is a DC-3 of TACA de Costa Rica at San Jose Airport in the mid 1940s.. TI-160 was
a C-47A-1-DK (built as 42-92279 but flown by the RAF as Dakota 3 FL635) which had previously
been operated by TACA de Honduras as YS-34.