TAM-03 Douglas DC-3 (c/n 13839/25284)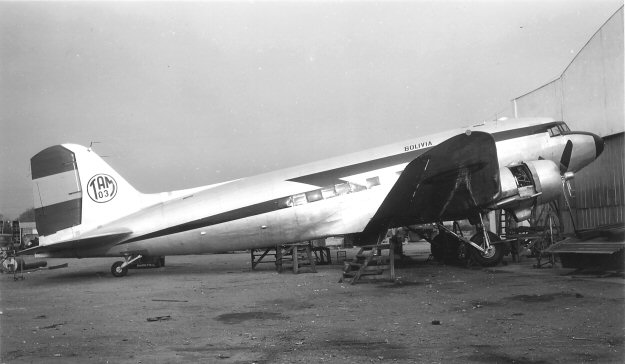 Transportes Aereos Militares is a branch of the Bolivian Air Force, but operates schedules in which
non military personnel may fly. Paraguay and Brazil also have similar such carriers. TAM Bolivia
was formed just after WW II to augment the civil airlines, since transportation in and around Bolivia
by land is not only extremely arduous but also dangerous (even today). So the military stepped in to
provide service to some of the remoter outlying areas. The image below has long been one of my
favorite aviation shots. It really says it all about transport in "outback" Bolivia in those days (as I say,
it probably isn't a lot different today). It was taken back in the 1940s and the identity of the aircraft
is not known. It is quite possibly TAM-03 again. My shot above was taken at Long Beach in the
mid 1950s when the former RAF Dakota IV (KG740) came in for a major overhaul. TAM-03 was
lost when it flew into a mountain near Villa Montes on 15 October 1958.