PP-XEG Percival P.50 Prince (c/n P50/2)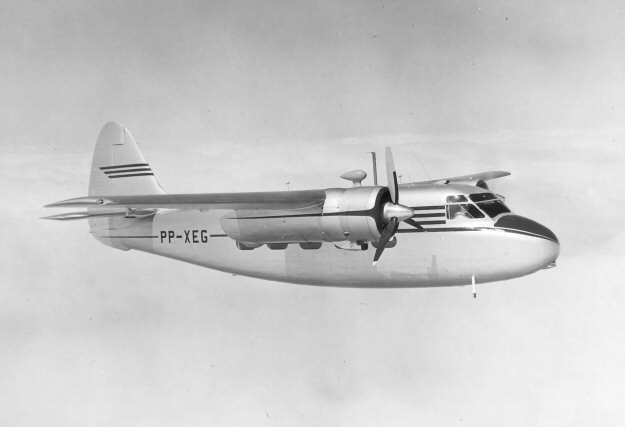 Empresa de Transportes Aereos Norte do Brasil Ltda (Aeronorte) ordered, in 1950, three
Percival Prince aircraft for their local service routes. The airline had been founded as long
ago as 1940 and flew 3 ex-Varig Lockheed 10A Electras in addition to 4 Curtiss C-46s.
The Prince illustrated above in this Percival Aircraft photograph was the first one (and second
one built) and is seen in its temporary (delivery) registration of PP-XEG. It was originally
allocated the UK registration G-ALFZ. As British manufacturers were want to do in that
era, it shows the aircraft flying with the starboard engine feathered, to demonstrate its single
engine capability. In service, this aircraft was registered PP-NBA. The second Prince was
ex G-AKYE (c/n P50/11) and was PP-NBF with Aeronorte, whilst the third was PP-NBG
(c/n P50/15). Aeronorte merged with REAL in 1954, and I doubt that any of the remaining
Princes were taken over by that carrier. In the case of PP-XEG, Martin Bernsmuller advises
that it was written off at Caxias, State of Maranhao on 9 March 1952.