PP-VDA Lockheed L-1049G Super Constellation (c/n 4610)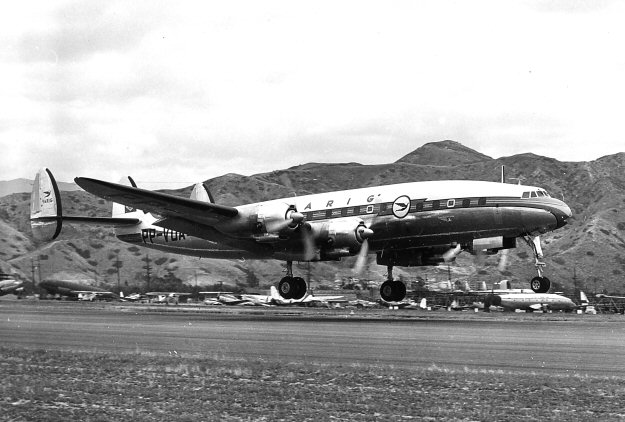 By the time (1955) VARIG took delivery of its first Super Constellations, a smart new blue, white
and black livery had been devised. All the fleet were repainted in this scheme. This shot shows
the first of the fleet of six of these majestic machines departing Burbank in May of 1955 on delivery
to Brazil. The lower photograph shows it after its arrival. For some strange reason the aircraft is
not carrying its "last three" identity on the nose, as was normal. This was usually done so that
mechanics were sure they were working on the correct aircraft. Possibly these nose markers
were added on later, although I am surprised the Burbank sign painter wasn't commissioned to
do this.
On the morning of 16 August 1957 the aircraft had arrived at Ciudad Trujillo with the No. 2 engine
inoperative. It was decided to off load the passengers and female cabin crew and continue to New
York via Miami on just three engines (???? Yes, really). The aircraft departed at 15:16 GMT with
the No. 2 prop feathered. Some 50 minutes later, the No. 4 prop oversped. The flight crew were
not able to control or feather the propeller and ultimately the prop tore free and damaged the No. 3
propeller as it parted. The No. 3 prop was feathered, leaving only the No. 1 engine operative. Ciudad
Trujillo could not be reached, forcing the crew to ditch the aircraft parallel to the coast at about 500m
off Cabarete in the Domincan Republic. The aircraft sank to a depth of about 40 feet. 10 of the 11
crew were rescued.