PP-VBI Curtiss C-46 (c/n 33100)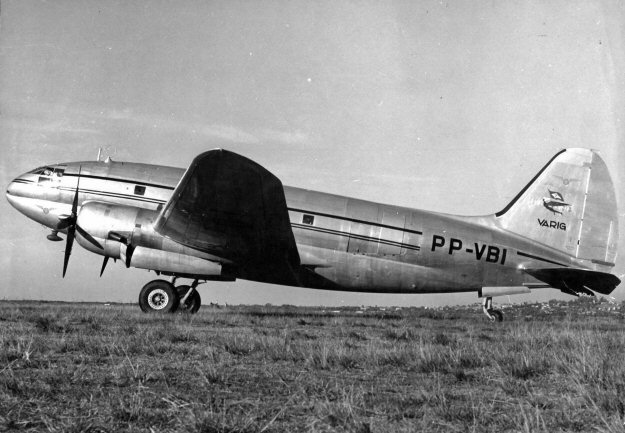 The nice shot above is a VARIG photo kindly supplied to me by Carlos Ari Germano. The same
machine appears in the image below from my own collection. PP-VBI was the first of some 20
odd C-46s flown by the airline. This one was the former C-46D-10-CU 44-77704. In 1947 it
was assigned the US Civil Registration N79052 but probably went straight from the RFC's storage
depot to VARIG (in 1948). They were used on passenger services in conjunction with the DC-3s.
PP-VBI came to a tragic end on 2 August 1949 on a flight from Sao Paulo to Porto Alegre. Twenty
minutes out of Porto Alegre a fire in cargo hold 'G' was noted. The pilot executed an emergency
descent while the mechanics tried, in vain, to extinguish the fire. The flight crew members were then
unable to see their instruments due to heavy smoke in the cockpit and had to keep their heads out
of the window to carry out an emergency landing in hilly terrain. The passengers crowded in panic
towards the forward end of the cabin in an attempt to escape the fire. This caused a dangerous and
sudden change in the c of g of the aircraft. The aircraft swung violently upon landing on rough ground
resulting in 5 fatalities out of a total 36 souls on board. The official accident report suggests that that
several passengers, possibly students, bought petroleum jars from Bahia on board, and some suspicion
is expressed relating to this incident..