PP-SPE Junkers Ju-52/3mg3e (c/n 5465)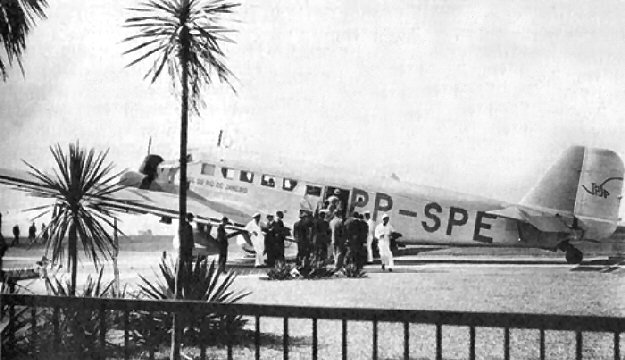 Viacao Aerea Sao Paulo, S.A. (VASP) was founded in November 1933 by the City, State and
Municipal Bank of Sao Paulo. Seventy-five percent of the capital came from the City and State
whose aim was to open up the interior through air transportation.. Its first two aircraft were
Monospar ST.4s imported from Britain (PP-SPA and -PB). These craft inaugurated services
on two routes: Sao Paulo-Ribeirao-Preto-Uberaba and Sao Paulo-Sao Carlos-Rio Preto. Its
third aircraft was also a British machine, the D.H.84 Dragon PP-SPC. Then, late in 1933
VASP ordered two Junkers Ju-52/3ms through Theodore Wille and Cia, a German importing
company closely allied with the Condor organization. These were 17 passenger aircraft and
were named '

Cidade de Sao Paulo

' (PP-SPD) and '

Cidade de Rio de Janerio

' (PP-SPE) seen
above in this VASP photo via Joao Novella. They went into service on 5 August 1936 starting
a new passenger route from Sao Paulo to Rio de Janeiro. PP-SPE was eventually scrapped.