PP-SLF de Havilland D.H.114 Heron 1 (c/n 14003)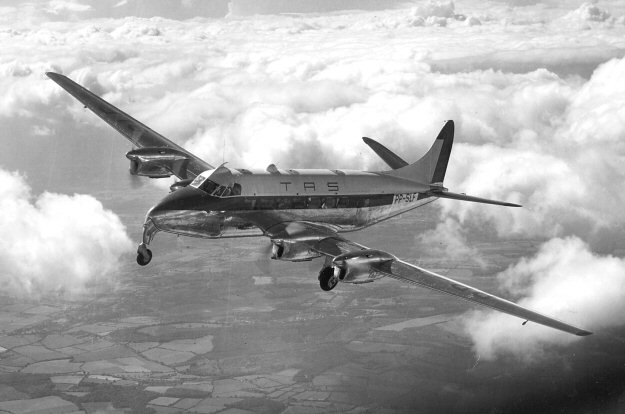 Transportes Aereos Salvador (TAS) was founded in 1949 in Salvador, Brazil as a charter
and FBO operator. By 1953 it had acquired an operating certificate to fly scheduled services
within the State of Bahia. Equipment at the time comprised four Beech Bonanzas and two
Herons. The little airline was absorbed by Nacional in 1956 (Panair do Brasil were also in
the market to purchase it, but the deal fell through for some reason). PP-SLF and its sister
aircraft PP-SLG were actually the third and fourth production Herons and, as such were Mark
1s with fixed undercarriages. PP-SLG was short lived, being delivered in August of 1952 and
written off in a crash at Itapebi, Bahia in March of 1953. PP-SLF (seen above in this image
courtesy the de Havilland Aircraft Co) saw service with other concerns in Brazil as PT-AVA
and PP-STS. It was withdrawn from use and stored at Ft. Lauderdale, Florida in 1970.