PP-PAZ Douglas DC-2A (c/n 1324)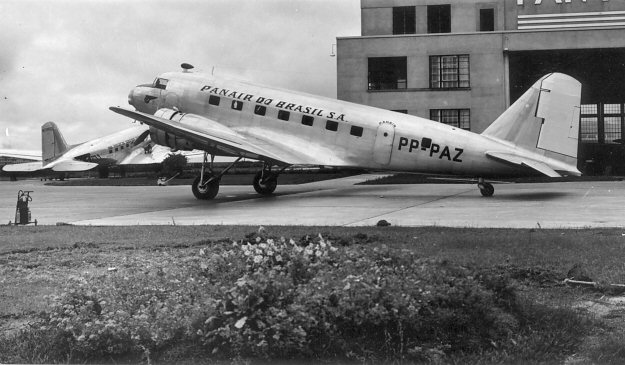 As DC-2s go, c/n 1324 was something of an anomaly. It was originally built for the Standard
Oil Company of California as a plush "club" version of transport for their executives. In addition
to being fitted with Pratt & Whitney Hornet SDG engines (vs. the normal Wright Cyclones fitted
to most DC-2s) it also had other non standard features. So much so that I believe (although I am
not certain) that it was built under a special Group 2 Approval Type Certificate (and not under
one of the approved ATC's for DC-2 variants). This machine also took place in the 1936 trans-
continental Bendix Air races. It was acquired by Pan American later in 1936 and re-registered
NC30076. It was transferred to Panair do Brasil in 1941 as my nice shot (courtesy of PAB)
illustrates. Note Pan Am DC-3 NC25653 (c/n 2193) in left background. In 1945 PP-PAZ
was sold to the Uruguayan national carrier PLUNA becoming CX-AEG.