PP-KAC Douglas DC-3CS1C3G (c/n 4704)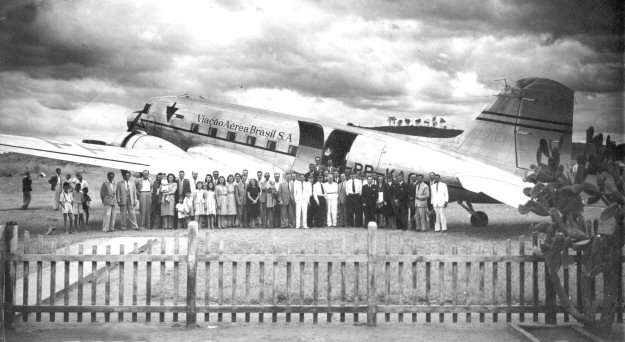 Viacao Aerea Brasil, S.A. (VIABRAS) was founded in April 1946 by Arnoldo Raposo Murtinho
and began operating scheduled services one year later after obtaining its operating authority. The
original route was from Belo Horizonte to Rio Verde, via Uberlandia in western Minas Geras, and
Goiania, the capital of Goias. In 1949 it formed a consortium with Nacional to mutually cut out
wasteful duplication (since the two lines served basically the same territory). It was fully absorbed
into Nacional in 1950. The rare photo above is from the a print taken by an ex-Viacao (and
National) cabin attendant, Mrs. Izolda Baez and shown here via the Carlos Ari César Germano
da Silva collection. PP-KAC was an early ex USAAF C-47-DL 41-18579 civilianzed in 1945
NC56969. It went to Dias Henrique & Cia in 1947 as PP-XBO. Viacao acquired it in 1947.
It became PP-ANR when absorbed into the Nacional fleet in 1954, although had other Brazilian
identities as well (Brazil, it would seem, re-registers aircraft almost as much as Australia does!)
The ex C-47 wound up as a true C-47 again when it found itself in the Brazilian Air Force in
1961 with the serial C-47-2079. It was offered for sale in 1980 but, in the event, was scrapped
at Rio de Janeiro.