PP-CBI Focke-Wulf FW 200 Condor (c/n 2996)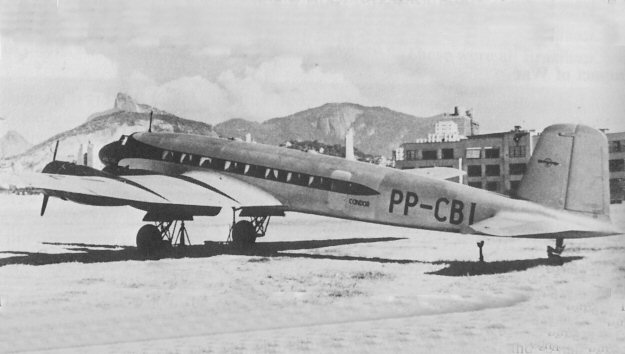 When Syndicato Condor took delivery of two FW 200s in 1940 it made the governments of
both Great Britain and the United States extremely nervous. Here was an aircraft which was
easily convertible into a long range anti submarine patrol machine, not to mention its bombing
capabilities. Although the US had not yet entered WW II (it would take Pearly Harbor to
convince the pacifists in the New World to come to the aid of the "good guys") clearly the
presence of FW 200s in the hemisphere could put the Panama Canal at risk. In the event,
Brazil joined the Allies in 1942 and Syndicato Condor thought it prudent to change the name
of the company to Servicos Aereos Cruzeiro do Sul, Ltda, generally known by its acronym
SACSUL (or sometimes just plain Cruzerio). This photograph came from an old postcard.
and shows -CBI at Santos Dumont, Airport, Rio de Janeiro.