PP-CBB Junkers Ju-52/3mW (c/n 4078)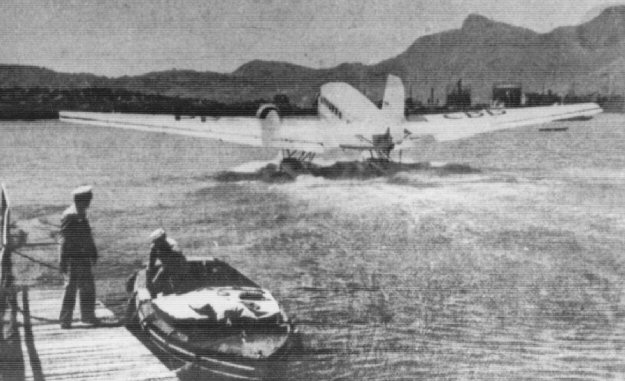 Syndicato Condor had some 18 Junkers Ju-52s, many of which were on floats. This shot, from
the Fernando Lins* collection (via Joao Novello) shows one of them taxying away from the dock
at Ponta do Caju, Rio de Janeiro after maintenance in December 1930. Ponta do Caju was the
airline's overhaul and maintenance base. In the distance are the famous Corcovado mountains, on
top of which the Christ statue is located. The port of Rio de Janeiro can bee seen off the star-
board wing. The two close ups of the same machine (below) showing Mario Browne and friends
came from the collection of Mrs. Alcyone Lyra (aso via Joao). Those float struts do not look
particularly robust!

* Fernando Lins, is the son of Severiano Lins the first Brazilian commercial pilot. Before him most of
the licenced aircrews were from Germany.