PP-CAX Junkers Ju-52/3mW (c/n 4043)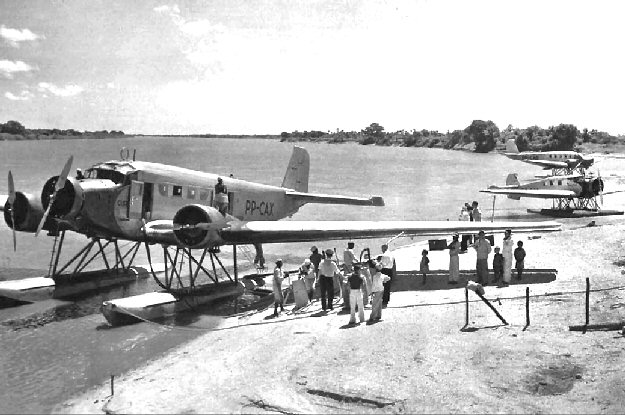 Two more rare shots from the Joao Novello collection, showing the Ju-52/3m float PP-CAX.
Above it is seen at a busy river port in northern Brazil in 1934. The Junkers G-24 in the right
background is PP-CAB*, whilst the W-34 is unidentified. I have enlarged that section of Joao's
original print (bottom of page) so that the three Junkers L-5 engines on -CAB can be discerned.
The shot below shows PP-CAX at the Hydro Terminal at Calabouco in Rio Janeiro. The build-
ing in the background is the old customs house. PP-CAX was named

'Curupira'

by Condor,
and was the formerly Lufthansa's D-3356, later D-ABIS. When WW II came along and Condor's
ownership became untenable, many of the early German machines were sold to Argentina, includ-
ing PP-CAX which became T-159 with the Argentine Air Force. . It was later civilianized as
LV-ZBD and wound up, Joao tells me, in a museum in Argentina displayed in LADE livery and
named

'Rio Negro

'.. .
*

PP-CAB

(c/n 944) was built in 1927 as D-1287 although was shipped almost immediately
to Brazil where it became P-BABA

'Ypiranha

'. It was leased to VARIG from July to Sept 1927.
It was written off in a crash at Coruripe, Alagoas in October 1938.