PP-CAK Junkers F-13 (c/n 725)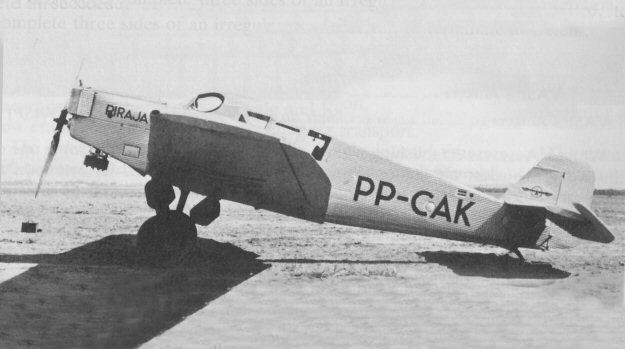 Early aviation in Brazil had many connections with European aviation, in particular with France,
Italy and Germany. Of the three nations, Germany had the greatest influence. Syndicato Condor
was a Brazilian/German enterprise formed in 1927 as a successor to the earlier Condor Syndicate
which had gone bankrupt. All of its equipment was of German extraction. Seen above is one of
the earliest machines flown by the company. The airline basically blazed air trails in northeastern
Brazil opening up areas hitherto inaccessible. PP-CAK, which was named

"Piraja"

had origin-
ally been registered P-BAKA, and had been re-registered in 1932. It was later written off at Santa
Quiteria, in the State of Ceara. The above image came from a pre-WW II Lufthansa publication
which my father had acquired at some point in time, whilst the shot below of the same aircraft is from
the Joao Novello collection (via Sindicato Condor), circa 1934. .