PP-AXO Curtiss C-46A (c/n 30549)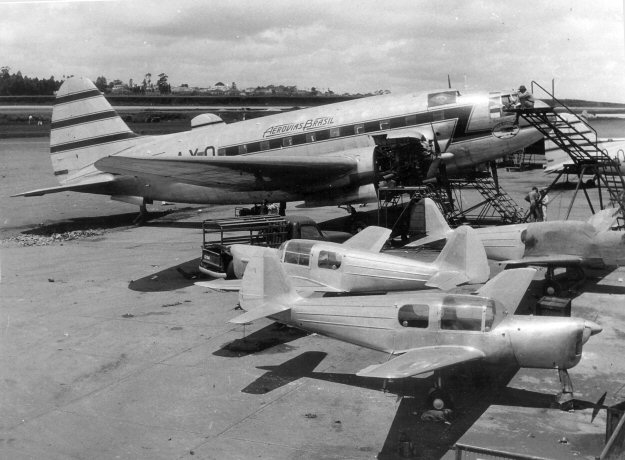 The above image has been one of the "mystery" photographs in my collection ever since I received
it from Aerovias Brasil in 1952. Were the Nord 1203 Norecrins flown in to Rio, or brought by ship
and assembled there? Did Aerovias Brasil do the assembling? How many Norecrins were imported
into Brazil?* They are unusual insofar as their c/ns do not appear on the rudder in usual French style.
Anyway, Aerovias Brasil operated four Curtiss C-46s from 1951 to about 1954. They were PP-AXN
PP-AXO, PP-AXP and PP-AXU. PP-AXO was named

"Territorio do Amapa"

as the nose shot
below illustrates, and PP-AXN was

"Territorio do Acre"

.. Both Territories are now states in Brazil,
incidentally. This aircraft began life as a C-46A-50-CU. Air Carrier Service Corp (probably a broker)
purchased it from war surplus storage in 1950 when it was registered N51585 Shortly afterward it went
to Brazil as PP-AXO. In 1954 it was sold to TABA who leased it out first to Loide (as PP-LDV) and
later to Paraense Transportes Aereos (as PP-BTI). It was written off in a crash 40 km from Vihena,
Brazil on 23 Oct 1965.

* In June 2007 I received a communication from Romulo Figueiredo in Rio de Janiero who advises that,
in fact, some 50 Norecrins were imported. One has been preserved and is in the Museu Asas de um
Sonho ("Wings of a Dream Museum") in Sao Carlos. Romulo indicates that this beautifully preserved
example was re-engined with a Ranger taken from a PT-19!