PP-AVJ Douglas DC-3 (c/n 7333)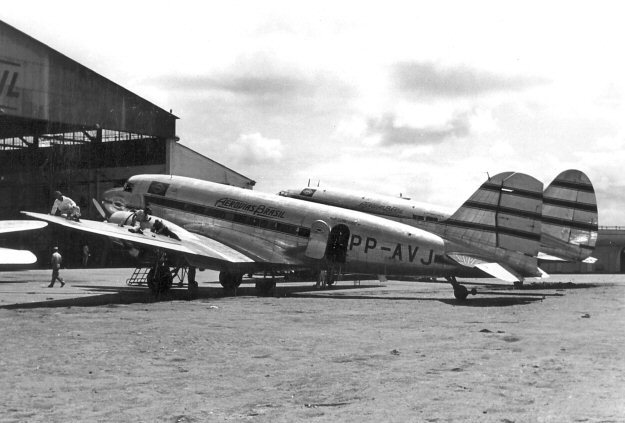 Empresa de Transportes Aerovias Brasil, S.A. was founded in 1942 by Lowell Yerex, the American
entrepreneur who had founded the TACA consortium of airlines. Yerex had his finger in many pies
and also founded British West Indian Airways in Trinidad as an alternative area of investment away
from the predominantly US-dominated region served by the TACA enterprises. .Anyway, Aerovias
Brasil, in addition to the lucrative Rio to Sao Paulo air corridor route also flew the inland route from
Rio de Janeiro to Belem. Early equipment comprised of Lockheed 12s and 14s, but by 1945 a
fleet of DC-3s (to eventually number over 30) was in service. PP-AVJ was built in 1942 as a
C-53-DO (i.e. originally destined to be an airliner, but diverted to the military during WW II). It
was assigned the USAAF serial 42-15538. After WW II it went to TACA de Salvador as YS-21,
and then was transferred by Yerex to TACA de Costa Rica where it became TI-75 and finally to
his Brazilian carrier as PP-AVJ. Aerovias Brasil merged into the Real Consortium on 1 June 1954,
which in turn was sold to VARIG in August 1961. VARIG sold the aircraft to the Government of
the State of Guanabara which used it at its department Serviços Aéreos de Defesa Civil, operated by
Jahu Transportadora Aérea Ltda as PT-CGL, and named 'Esperança' (= Hope). In 1965 VARIG
bought the aircraft back and registered it PP-VDM. Interestingly, at the Museu Aeroespacial in Rio
de Janeiro there is a restored C-47A masquerading as PP-AVJ. In actual fact this latter machine
is a C-47A-90-DL (c/n 20555, and ex 43-16089) and was the former Brazilian Air Force FAB2024.
Martin Bernsmuller provides a shot of this machine (below) and it serves to illustrate the very nice
red livery which was worn by the aircraft of Aerovias Brasil in the 1940s and 50s. .